Services We Offer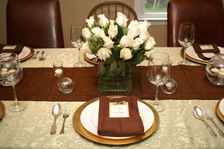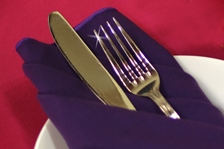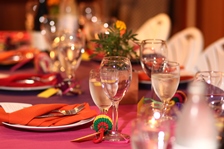 Slavin in the Kitchen is a full service catering company which not only focuses on producing delicious and creative food for your party, but on the overall event design. We have experience accommodating parties large and small, in many diverse types of venues. Every single aspect of any great event is designed and planned. At Slavin in the Kitchen careful attention is paid to specific details such as table linens and napkins, centerpieces, decorations, timing, lighting, to create the overall ambience that you desire from your event. Our staff has years of successful party planning experience, which is why hiring a full-service catering company is helpful to both professional and novice party hosts.
OFFER CUSTOM DESIGNED SEASONAL, LOCAL OR ORGANIC MENUS
Fresh Seasonal cooking is the hallmark of Slavin in the Kitchen cuisine. Each menu we create for our clients reflects a dedication to quality, which begins with quality ingredients. Cooking seasonally allows us to use the best of what's available at the time.
WAITSTAFF
Many events require waitstaff to help serve as well as clean-up. We have professional and courteous waitstaff who are experienced in off-site event service. With their attention to detail, and flexibility they will allow your event t0 run smoothly. Dressed professionally in black trousers, white oxford, black apron and signature "fork and knife" tie, our staff will be a critical ingredient to the success of your event.
EVENT MANAGERS
Weddings and other large parties all receive an Event Manager to help guide the event successfully. Our Event Managers become familiar with all details surrounding each unique event and ensure that all are expertly executed. They manage the waitstaff, coordinate with outside vendors, assist with event timing and answer guest questions. They will become the point person for our Brides and Grooms during the reception.
COORDINATION OF RENTALS
China, Linens, Glassware, Specialty Serving Pieces, Tables, Chairs, Chair Covers and Event Furnishings all work to produce the exact look that you wish for your event. We work with a variety of companies to produce your overall event ambiance. And we will continue to communicate with those companies as your guest numbers change to ensure that your event is flawless.
FLOWERS AND EVENT DÉCOR
Beautiful flower arrangements can make any space beautiful. We work with a variety of florists to add that special touch to a buffet, guest table or even the hospitality tent.
Having a themed party? Slavin in the Kitchen can help with the décor. Have a Proper Tea with antique linens and vintage tea pots, or a Casino Night with dice and a roulette wheel, or a Southern BBQ complete with Straw Bales, Ten Gallon Hats and Cowboy Boots. Slavin in the Kitchen can assist you with all your decoration needs.
ENTERTAINMENT
As a former classical musician, Deirdre knows that music always enhances the ambiance of an event. Whether it is a jazz piano player, string quartet, or an energetic children's DJ, we would be happy to recommend a variety of accomplished musicians for your function.
Interested in a more visual show? We are able to coordinate other entertainment acts such as magicians, animal shows, science shows, or storytellers.
But if it's entertainment of the more hands-on variety that you are looking for we are happy to coordinate Inflatable Bounces, Obstacle Courses, Slides and Water Rides, Carnival Games and Sports Inflatables.
DESIGN AND INSTALL TEMPORARY OUTDOOR KITCHENS
Throughout her career Deirdre has had many opportunities to work in temporary on-site catering kitchens at weddings, music festivals, and after Hurricane Katrina. Creating fabulous food under a tent is possible and perhaps necessary. We can help create the appropriate temporary kitchen for your event.
RECOMMEND FOOD AND WINE PAIRINGS
We are here to help you select and enjoy the right wine for your occasion. We can assist in choosing the wine for your wedding or party or we can create a special wine tasting and small plate event to help you celebrate any occasion. Our small plate-wine tasting catering services can help you design and bring together a delicious, aromatic and thoroughly enjoyable experience for you and your guests.
ACCOMMODATE SPECIAL FOOD REQUESTS AND DIETARY RESTRICTIONS
When it comes to special events no one should ever feel excluded. However, various food allergies, lactose-intolerance, and gluten-free dietary requirements are extremely common. Special dietary needs can make menu planning a bit more difficult, but not entirely impossible. We will try to accommodate any dietary needs for your guests who have food restrictions so that they can be a part of your special event.
We encourage you to let our expertise, knowledge, and record of excellent execution make your event a memorable one.
Some events we've catered...
Weddings
Rehearsal Dinners
Birthday Parties
Family Reunions
Showers
Anniversary Celebrations
Bar/Bat Mitzvah
Passover Seder
Thanksgiving, Easter and 4th of July Events
Christenings
First Communion
BBQs
Graduation
Holiday Parties
Corporate Events
Corporate Meetings
Drop off